Special Report
Canadian Mine Analysis.com Special Reports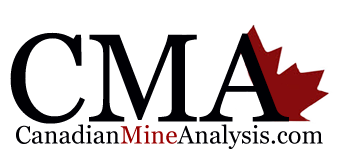 Alexandria Minerals Corporation
Symbol in Canada AZX, US ALXDF
Symbol in Canada AZX, US ALXDF at .05 cents 
We have had some success in our research of mining stocks with our picks such as Richmont Mines and NIogold Mines having good moves up in price after we pointed out their undervaluation. In our view they have much further upside as we finally enter a bull market in gold and gold mining stocks. We are still in a period of many mining stocks being "on sale" with very few investors taking advantage of the historically low and undervalued prices that they are selling at.
What is worth mentioning is the ongoing heavy buying in the mining stocks being done by the mining industry's officers' and management. That is one of the few sectors where the amount of officers' buying is far greater than the officers' selling.
Our analysis suggests that many, but not all of the small cap junior gold mining and silver stocks are poised to start exceptional moves up in price. For the gold and many mining stocks, the stage is set and the players are poised to get their cue. Both our cyclical and fundamental analysis are now forecasting a positive market for gold bullion and many mining stocks. As we are always searching for undervalued mining situations for ourselves and clients, we noticed Alexandria at a recent mining conference.
Gold Bullion
Our view is that a $1400 US Gold price will turn many mining stocks up sharply as market psychology will change. As well, today there are many mining stocks today that are extremely undervalued and offer exceptional opportunities for capital gains. When the gold bullion is in the recent $1170 to $1300 range and many of the stocks are selling at or near their multi-year price lows, it can offer outstanding opportunities for investing.
Bottoming action
The price bottom in a stock occurs when the last frustrated shareholders sell their shares thereby leaving no more shares to be sold. Recently, there has been tax loss selling of mining shares as well as regular frustrated shareholder selling. It is our belief that much of the selling is imprudent. In our opinion, the selling is occurring while many of these mining stocks are fundamentally undervalued. We would guess that some selling advice is probably based upon the recommendations of major US brokerage houses.
No Sponsorship & No Research Coverage?
Investors should also keep in mind as there is no longer the same amount of research coverage or market maker support, stocks drop to price levels that are often significantly below proper valuations. Brokerage or fund sponsorship is rare today which leads to greater downside during sell offs. Moreover, mining stocks can languish at low prices for longer periods as there are fewer participants. However, that does create opportunities to invest at lower prices as the competition and market maker participation is less than in the past. Again-no research and no market maker support brings weakness.
Alexandria Minerals is a Canadian small cap mining exploration company with three large gold projects in the Val D'Or region of Quebec; it was founded in 2006.The region is one of the largest and most prolific mining regions in North America and has been that for decades. Moreover, Alexandria is one of the largest land holders in the Val D'or region. One year price range   .035 low .12 cents high
While Alexandria is a junior exploration company founded in 2006. It caught our attention based upon its early exploration success. We coupled that with its successful sale of fourteen claims to NYSE and TSX listed Agnico Eagle for $5,000,000 in 2014. As well, an important point is that it was a very small percentage of Alexandria's holdings. The sale amounted to 14 of Alexandria's claims which are 2% of Alexandria's total claims in Quebec. That was an impressive and prudent move. Alexandria's exploration drilling has been ongoing on the three major projects with resources at the projects now totaling over 1,600,000 ounces Gold. We expect more results and wait for developments and further exploration. In February, drilling will recommence.
Murgor Resources Acquisition
Alexandria is in the process of acquiring Murgor Resources, a Canadian mineral exploration with assets located in Manitoba, Quebec and Ontario. We have followed Murgor in the past and our view has always been that Murgor has undervalued and overlooked assets that the markets never recognized. It is our belief that the acquisition which is to be completed by the end of February will add notable asset value to Alexandria. But until it is completed, our valuation is based only upon the Quebec projects.
Alexandria shares, who owns them?
We consider the ownership of a junior mining company to be an important ingredient in determining whether or not to consider investment in a company. As important is what the institutions that invested paid for their shares. When established mining companies invest in small cap exploration juniors, it is an indication that there is potential recognized by experienced geologists and other mining executives.
Mining corporations that are substantial Alexandria shareholders include Agnico Eagle Mines with 8% of Alexandria's shares, IAMGOLD with 3.5 %, Teck Resources with 3.5 %, Quebec funds own approximately 6%, New York based Gabelli funds owns significant position, Note that all paid substantially above the current price of Alexandria. Alexandria's officers and directors (insiders) own 13% of the shares; we also note that there have been no sales of the shares as we looked back over the last two years.
Cash Position
Alexandria currently has $2,370,000 in cash and short term assets with no debt whatsoever. The company also owns between $250,000 and $350,000 in shares of other mining companies.
Conclusion
In small cap junior mining stocks, Alexandria merits attention and we are monitoring it closely.


###

Niogold Mining Corporation
Price weakness in stocks may be providing an opportunity for investors, it often does, but few take advantage of it.  That will never change!
The present price weakness in the gold mining stocks and gold itself is in our view an opportunity to accumulate shares in mining companies with advanced resources that by several gauges are undervalued.  Generally, we are quite positive on the mining shares as our analysis suggests that a major bottom is being completed. That analysis consists of fundamental technical and most importantly cyclical analysis.
Note well that since last July, many mining stocks have seen their price lows and have appreciated well. We have also noticed that many stocks do not seem to have offerings of any size. In our opinion, for the next bull market in mining stocks "the stage is set". Be ready!
Niogold Mining Corporation, symbol "NOX" on TSXV, is a Canadian gold exploration company founded in 2003. The company's properties are located in the Cadillac, Malartic and Val d'or mining camps in the Abitibi district of Quebec. Most mining investors are aware that the Abitibi region has an eighty year history of gold production (over 45,000,000 ounces of gold production through 2013) and today that region continues to be one of the most productive gold mining areas in North America.
Niogold has a 130 square kilometer land package of which for this report, we are focusing on its Marban Block that contains three past producing mines with current 43-101 resources  of over 2,100,000 ounces of gold. Niogold's mining neighbors include seven producing gold mines including Agnico-Eagle, Osisko and Richmont Mines.
The company's exploration focus over the last four years has been its 100% owned Marban Block project. Since its inception in 2004, over $24,000,000 has been spent on exploration with another $1,500,000 budgeted for 10,000 meters of drilling in 2014. As is the normal strategy with junior exploration companies, our analysis suggests that Niogold's exploration will continue to add ounces to the resource base since there still is sunstanctial further potential in Niogold's total land package.
To date, the company is on schedule with already 1,531,000 ounces of 43-101 measured and indicated resources and 599,000 inferred at the Marban Block. That property now has a level of 43-101 resources that is close to mining consideration in itself. As always, the price of gold bullion is a key factor.
The Stock: Who owns it?
The stock is relatively tightly held. A U.S. Hedge fund raised its percentage to 20%, Niogold's officers and directors own 6% with "friendlies and close associates" holding another 21%. A Canadian mining executive with an outstanding history of mining accomplishment owns 5% of the shares. The directors include people of superb repute and success in the mining industry.
Valuation of resources just at Marban?
A most important factor, (among several) in putting a value on an exploration company is the amount of resources in the properties owned. Historically a gold property with deposits was valued at $50 to $70 an ounce of in-ground (in-situ) resources. However, in the last decade, despite the enormous move up in gold's price, it has dropped to into the $10 to $15 per ounce range in ground. Naturally it is influenced by many factors including depth of deposits and the area of the mining. Yet, $15 is low!
Moreover, while Niogold has 2,100,000 ounces 43-101 resources, we expect that amount to increase as exploration continues. Thus, we feel that by using $15 an ounce we are being quite conservative. That computes to $31,500,000 for the value of Niogold's Marban Block (Measured and Indicated Resources 78%, Inferred Resources 28%) which calculates to .29 cents per Niogold share.
As well, Niogold has over $4,000,000 in cash and marketable securities which would add another .03 cents per share. Keep in mind that we are only using the value up to this point at the Marban Block-the values for the other projects are not included here.
Infrastructure
At all Niogold's projects, the needed infrastructure for mining is already in place. There is an abundance of skilled labor, available electric power and readily accessible roads. A railroad  goes directly through the Marban Block. Overall, it is an ideal mining location.
Conclusion
In a difficult market for mining and particularly junior exploration companies, Niogold has made superb progress and remains debt free. Our analysis projects that change will soon be at hand and that Niogold merits attention. Keeping in mind that since we no longer have market makers and brokerage house support as in the past, investors might consider "dollar cost averaging" during price declines if a company's fundamentals remain positive. Many successful investors do it.
By K.C. Grainger and Bob Pellerin